Parish Eucharist
Eucharist – 8:00am, Sundays
This liturgy is a brief celebration of the Eucharist in spoken liturgy with sermon.
Parish Eucharist – 10:00am, Sundays
This liturgy is our primary gathering as a community. It's a joyous service with lively singing, sermon, and conversation followed by Communion. The service is also streamed via Zoom and Facebook.
Ongoing Events at St. Asaph's
If you have any further questions, please feel free to contact by email Mother Barbara.
Bible Study
Tuesdays (Weekly) at 12pm
Tuesdays at noon you are invited to join a lectionary Bible study to explore the Gospel lesson for the following Sunday. We will read slowly through it together and explore questions, consternations, and discoveries.
Compline
Tuesdays and Thursdays (Weekly) at 9:00pm
The offering of prayer late in the evening, by laity, religious orders or clergy, often called Compline, has sometimes been described as the 'goodnight prayer of the Church'. It rounds off the day and prepares us for a quiet night. As the psalmist wrote:
I lie down in peace and take rest my rest
for it is in God alone that I dwell unafraid.
Night Prayer derives its content from the wisdom of the centuries in Scripture and above all in the psalms, but also from contemporary Christian experience of God. It celebrates the awareness that each of us who tries to pray is a part of the human whole. So we are taken over the threshold from daytime, not in a mood of self-centered spirituality, but as representatives of humanity, acknowledging our creaturehood before God.
Know all are welcome.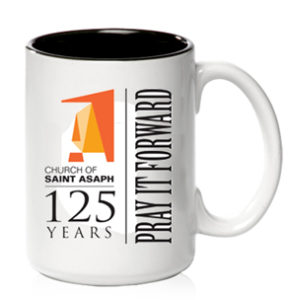 St. Asaph Mugs
St. Asaph's 125th Anniversary Mugs are still available for your examination at the Team Ministries Table for $10 each. Please ask someone on the committee or contact the church office if you are interested in purchasing one.