Parish Eucharist
Eucharist – 8:00am, Sundays
This liturgy is a brief celebration of the Eucharist in spoken liturgy with sermon. This service will be conducted in a virtual format for the foreseeable future. 
Parish Eucharist – 9:15am, Sundays
This liturgy is our primary gathering as a community. It's a joyous service with lively singing, sermon, and conversation followed by Communion.
Ongoing Events at St. Asaph's
Beloved Community Meets twice a month as we build our listening skills and explore the many ways we are challenged by or afraid of talking with each other about hot topics about which we can sometimes vehemently disagree. Meets two Thursdays per month from 7:30-8:45 PM, (followed by Compline at 9:00 PM for those who wish). For the moment, we will continue to meet via Zoom.
Please mark these dates on your calendar:
July 22 – Reflection
August 5 – Civil Discourse
August 19 – Reflection
September 9 – Civil Discourse
September 23 – Reflection
This is the link to access the Civil Discourse curriculum that the group will be using off and on for your conversations about racial justice. it is free and anyone can use it.
Make Me an Instrument of Peace: A Guide to Civil Discourse For Groups
"No matter how far apart two sides are, there are effective strategies to bring people together, this course shows us how."
Link to a brief video preview about the course
If you have any further questions, please feel free to contact by email Mother Barbara.
Bible Study with Mother Barbara
Tuesdays (Weekly) at 12pm
Tuesdays at noon you are invited to join a lectionary Bible study to explore the Gospel lesson for the following Sunday. We will read slowly through it together and explore questions, consternations, and discoveries.
Compline
Tuesdays and Thursdays (Weekly) at 9:00pm
The offering of prayer late in the evening, by laity, religious orders or clergy, often called Compline, has sometimes been described as the 'goodnight prayer of the Church'. It rounds off the day and prepares us for a quiet night. As the psalmist wrote:
I lie down in peace and take rest my rest
for it is in God alone that I dwell unafraid.
Night Prayer derives its content from the wisdom of the centuries in Scripture and above all in the psalms, but also from contemporary Christian experience of God. It celebrates the awareness that each of us who tries to pray is a part of the human whole. So we are taken over the threshold from daytime, not in a mood of self-centered spirituality, but as representatives of humanity, acknowledging our creaturehood before God.
Know all are welcome.
Conversation with the Rector
Wednesdays (Weekly) at 6pm
Summer book read: The Life You Save May Be Your Own
Available on Kindle for $11.99
Conversation & Hors d'oeuvres Zoom Meeting Group
Day & Time: TBD
Food and good conversation always soothes the soul! So while we are "staying at home" let's get together virtually and enjoy hors d'oeuvres, conversation and share some much needed laughs.
So that everyone can be able to share in conversation, each group should be no more than 10 people. If you are interested in attending a group, or would like to be the host, please email the church office and let me know so that I assist in setting up the meeting. Once we have enough volunteers, I will email the potential group to coordinate an agree able date and time.
All 10:00am Community Worship services will be conducted in a virtual format for the foreseeable future. Onsite worship is available for the 8:00am Contemplative Worship service. Please be in touch with the church office for more information on connecting online with these services.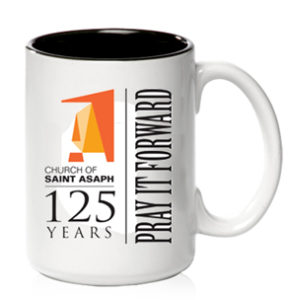 St. Asaph Mugs
St. Asaph's 125th Anniversary Mugs are still available for your examination at the Team Ministries Table for $10 each. Please ask someone on the committee or contact the church office if you are interested in purchasing one.