Parish Eucharist
Eucharist – 8:00am, Sundays
This liturgy is a brief celebration of the Eucharist in spoken liturgy with sermon.
Parish Eucharist – 10:00am, Sundays
This liturgy is our primary gathering as a community. It's a joyous service with lively singing, sermon, and conversation followed by Communion. The service is also streamed via Zoom and Facebook.
Lenten Programming
Compline Tuesdays 9pm by Zoom
The last of the four services in the Daily Office (BCP, p. 127). It is descended from the night prayers said before bed at the end of the monastic round of daily prayer. Compline is a simple office including a confession of sins, one or more psalms, a short reading from scripture, versicles and responses, the Lord's Prayer, collects which ask for God's protection during the night to come, and the canticle Nunc dimittis. A hymn for the evening may follow the short reading from scripture.
Bible Study Tuesdays at noon by Zoom, led by members of the parish. We engage in the spiritual practice of reading and dwelling in the biblical text for the upcoming Sunday with an openness to be formed and transformed by the Living Word. The focus is on listening to each other and to the Word, rather than "thinking" about it.
Lenten Study
Hope in Hard Times" with the Rev. Dr. Flora Keshgegian
A six-part online lunch series on Wednesdays, 3/9-4/13, 12:30-1:30
Register here https://www.eventbrite.com/x/hope-in-hard-times-diopa-2022-lenten-lunch-series-tickets-263907804347?utm_campaign=order_confirm&utm_medium=email&ref=eemailordconf&app_cta_src=order_conf_email&utm_source=eventbrite&utm_term=digitalx
How do we sustain hope in the midst of all that is happening in our world today? Christian hope invites us to translate messianic ends – like justice, freedom, and peace – into present values. Moving deeper than our yearning for a better future, we will re-imagine hope as we learn how to retell the Christian story and that of our lives, and develop spiritual habits of hope. This communal and interactive Zoom series will explore the nature of Christian hope, progressing each week through key habits of hope including: honoring time, moving in place, imagining creatively, participating in interrelation, and living in wild wonder. Christian hope enables us to encounter God exactly where we are, not in spite of it.
Saturday Lenten Retreat
Crossing Thresholds: a Lenten Retreat
Saturday April 2, 2022
8:30 AM to 12:30 PM
In this half-day retreat, we will explore practices and prayers from the Celtic tradition to guide us and bind us together through this time of transition. The Celtic tradition arose out of early Christian practices and beliefs from Ireland, Scotland, and Wales. We will uncover practices that might have been familiar to our Welsh forebears who founded St. Asaphs. No preparation is required, but please let the church office know if you plan to attend. Assuming COVID restrictions permit, we will meet in person at the church.
Facilitated by Linda Sterthous, Connie Stelzenmuller, and Joanne Behm
Holy Week
Liturgy of the Palms Sunday, April 10, with Holy Eucharist at 8am and 10am
Maundy Thursday with washing of the feet, Thursday, April 14, 7pm
Good Friday Liturgy at noon and 7pm
Easter Vigil at the cathedral (TBA)Easter Sunday 8am and 10am
Ongoing Events at St. Asaph's
If you have any further questions, please feel free to contact by email Mother Barbara.
Bible Study with Mother Barbara
Tuesdays (Weekly) at 12pm
Tuesdays at noon you are invited to join a lectionary Bible study to explore the Gospel lesson for the following Sunday. We will read slowly through it together and explore questions, consternations, and discoveries.
Compline
Tuesdays and Thursdays (Weekly) at 9:00pm
The offering of prayer late in the evening, by laity, religious orders or clergy, often called Compline, has sometimes been described as the 'goodnight prayer of the Church'. It rounds off the day and prepares us for a quiet night. As the psalmist wrote:
I lie down in peace and take rest my rest
for it is in God alone that I dwell unafraid.
Night Prayer derives its content from the wisdom of the centuries in Scripture and above all in the psalms, but also from contemporary Christian experience of God. It celebrates the awareness that each of us who tries to pray is a part of the human whole. So we are taken over the threshold from daytime, not in a mood of self-centered spirituality, but as representatives of humanity, acknowledging our creaturehood before God.
Know all are welcome.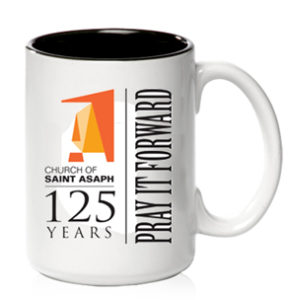 St. Asaph Mugs
St. Asaph's 125th Anniversary Mugs are still available for your examination at the Team Ministries Table for $10 each. Please ask someone on the committee or contact the church office if you are interested in purchasing one.